Who am I?
I am a native Norwegian from a family of farmers. As the oldest child, I was expected to become a farmer like my ancestors. But when I bought my first plastic pocket camera at the age of twelve, I told my parents I would become a photographer. They thought I was crazy. They didn't know any artists and were sure I would starve to death like so many artists before me. Just look what happened to Vincent van Gogh! My parents tried to change my mind, but I knew that everything except being an artist would make me miserable. 
What is my passion?
Stories. Stories. Stories.
My head is full of stories. Creating artworks is like playing games with characters, colors, plots, and pictures, and I just happen to have a talent for it.
What am I?
I'm a storyteller, photographer, scriptwriter, designer, poet, story collector, producer, writer, director, artist, community manager, facilitator, and entrepreneur.
What techniques do I use?
I use many different techniques. As a photographer, I use my Canon camera and Adobe Photoshop. As a writer and scriptwriter, I use Celtex, JotterPad, and my MacBook. As a designer, I use my sewing machine, Adobe Illustrator, InDesign, and Photoshop. As a facilitator, I use Prezi, Zoom, photos, and videos. As an entrepreneur, I use my management skills. As a filmmaker, I use all of the above and some more.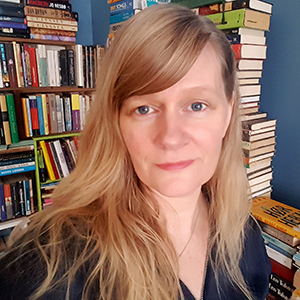 Nadina Helen Bakos
Phone: +47 41296918
Mail: nadinabakos(a)gmail.com
City: Oslo, Norway
Writer studies 2nd year at CappelenDamm Forfatterskole
September 2021 – May 2022
Honorary research fellow at Fil. Dr. Jan-U. Sandal Institute
January 2014 – Ongoing
Apprentice for DOP Odd Geir Sæther
August 2004 – August 2007
BFA in Art, Film, and Culture at Robert Meyer Kunsthøgskole
September 2000 – May 2003
Art photography at Oslo Fotokunstskole
September 1998 – May 1999
Member of Grafill, Kunstnerforeningen, and Pride Art.
Exhibitions and film festivals
Filmfestivals
2023 – Nordic / Docs, Norway
2023 – The Norwegian Short Film Festival, Norway
2022 – Bologna Lesbian Film Festival, Italy
2021 – Oslo Fusion Film Festival, Norway
2021 – Golden State Film Festival, USA.
2020 – Accord Cine Fest 2020, India.
2020 – Point of view Indie Film Festival, Germany.
2019 – The Norwegian Short Film Festival, Norway
2019 – Kortflix at Cafeteateret, Norway
2019 – OsloPix, Norway
2018 – German United Film Festival, Germany
2018 – Festival Internacional de Cortometrajes Experimentales, Colombia
2018 – Rome Film Fest, Italy
2018 – Cannes Film Festival – short film corner, France
2017 – Festival de Alicante, Spain
2006 – Prosjekt 101, Klingenberg cinema, Norway
Exhibitions in public places
2023 – "Tromsø Arctic Pride" at Tøllefsenhjørnet, Norway
2023 – Kunstpassasjen, Jernbanetorget in Oslo, Norway
2022 – Kunstpassasjen, Jernbanetorget in Oslo, Norway
2021 – Street art project in every district of Oslo, Norway
2020 – Markveien, Torggata, and Grensen, Norway
2020 – Grønlandsleiret, Torggata, Youngstorget, Møllergata, Kirkegata, and Karl Johans gate, Norway
2015 – Elvelangs i Nydalen, Norway
2012 – Elvelangs i Nydalen, Norway
2009 – Oslo Open, Norway
2002 – Kunstpassasjen, Jernbanetorget in Oslo, Norway
Museums and Art Institutions
2023 – "Wunderkammer" at DogA, Norway
2023 – "Uro" at Gallery Nord-Norge, Harstad, Norway
2023 – "Snow falling on water while light drags the night away" at Gallery Fineart, Oslo, Norway
2023 – "Myths about women" at Seljord Art Association, Norway
2023 – "The fight continues" at SKOKS – Sofienberg church, Norway
2023 – "Queer Spirit" (traveling exhibition), Culture church Jacob in Oslo, Moss church, Drammen church, Olavsfest, Svinndal church – Norway
2022 – "Wunderkammer" at DogA, Norway
2022 – Artist residency, France
2017 – Telemark exhibition, Norway
2016 – Blaafarveværket, Norway
2013 – "Locking doors, hiding and refinding keys" at Stenersenmuseet, Norway
2013 – Cyan:Studio, Norway
2009 – "Ekko" at Gulden kunstverk, Norway
2008 – "Ekko" at Stenersenmuseet, Norway
2008 – "Ekko" at Galleri Trafo, Norway
Partners and collaborators